I had a friend at work that had grown Brussels Sprouts in the past and she explained how they grow along the stalk of the plant, rather than just dangling from the plant as I had previously imagined (somehow, in my mind, I was picturing something resembling a vegetable Christmas tree. I guess I wasn't THAT far off....).
They seem to be slow to develop this year with the drought and super hot temperatures, but things are starting to cool down and they seem to be kicking into gear! In fact, they are ready for their closeup......
Cute little Sprouts, aren't they? I started this from seed right in the pot in the spring, thinned them out to leave the strongest seedling to grow, and added the ornamental flowers later for some 'pretty' in the mix. The plant itself is such a neat looking thing; everyone that visits says "What is THAT?" It's been worth growing just for the conversation factor. If you run out of things to say at a dinner party you can always start talking about your Sprouts, right?

The Sprouts pot mid-summer
OK, maybe I'm just used to dinner parties with my chickens, so don't take my social advice; but Brussels Sprouts are easy and fun to grow. They are a slow growing and hardy plant, and mature best when cooler weather hits. In fact, they enjoy a little bit of frostiness! Hopefully mine will start looking like this soon.....
Plant your seeds (or a more mature transplant) in the spring in a spot with well drained, fertile soil and at least 6 hours of full sun. I am growing these in a large pot this year and they seem to be doing very well! Try something new when planning your garden for spring next year (it's never too early to start thinking of new garden ideas). Before you know it, your patience with this Brassica (or cabbage-family) vegetable will pay off with a bountiful harvest, and then you can try one of these fantastic recipes! Please leave a comment and share what you know about this interesting vegetable, or share your own fantastic recipe with everyone-we can never have enough of those!
Brussels Sprouts With Pecans
8 servings
(LOVE this one from the 2002 Cooking Light magazine)
2 teaspoons
butter
1 cup
chopped onion
4
garlic cloves, thinly sliced
8 cups
halved and thinly sliced Brussels sprouts (about 1 1/2 pounds)
1/2 cup
fat-free, less-sodium chicken broth
1 1/2 tablespoons
sugar
1/2 teaspoon
salt
8 teaspoons
coarsely chopped pecans, toasted
Melt butter in a large nonstick skillet over medium-high heat. Add onion and garlic; sauté 4 minutes or until lightly browned. Stir in Brussels sprouts; sauté 2 minutes. Add broth and sugar; cook 5 minutes or until liquid almost evaporates, stirring frequently. Stir in salt. Sprinkle with pecans.
Brussels Sprouts Gratin
(a not-so-light way to cook them, but OH is this GOOOOOD!)
4 servings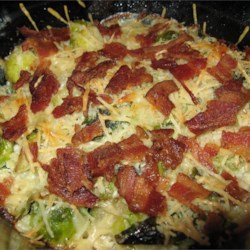 1 pound Brussels sprouts, cleaned and trimmed
2 slices bacon, cut into 1/2 inch pieces
salt and ground pepper to taste
1/2 cup heavy cream
1/4 cup bread crumbs
1/4 cup grated Parmesan cheese
2 tablespoons butter, cut into tiny pieces


1. Preheat an oven to 400 degrees F (200 degrees C). Lightly grease a baking dish.
2. Bring a large pot of lightly salted water to a boil. Add the Brussels sprouts and cook uncovered until tender, about 8 minutes. Drain in a colander, then immediately immerse in ice water for several minutes until cold to stop the cooking process. Once the Brussels sprouts are cold, drain well, and cut in halves or quarters, depending on size. Set aside.
3. Meanwhile, place the bacon in a large, deep skillet, and cook over medium-high heat, turning occasionally, until limp and lightly browned, about 5 minutes. Reduce heat and stir in the Brussels sprouts. Season with salt and pepper then toss for about 1 minutes to evenly distribute the seasonings. Arrange bacon and Brussels sprouts on the prepared baking dish. Pour cream evenly over the Brussels sprouts, then sprinkle breadcrumbs and Parmesan cheese on top. Distribute pieces of butter over the bread crumbs.
4. Bake in the preheated oven until golden brown and heated through, 20 to 25 minutes.



Roasted Brussels Sprouts
Simple, yet oh so delicious!
6 Servings
1 1/2 pounds Brussels sprouts, ends trimmed and yellow leaves removed
3 tablespoons olive oil
1 teaspoon salt
1/2 teaspoon black pepper
Preheat oven to 400 degrees F.

Place trimmed Brussels sprouts, olive oil, salt and pepper in a large resealable plastic bag. Seal tightly, and shake to coat. Pour onto a baking sheet, and place on center oven rack.

Roast in the preheated oven for 30 to 45 minutes, shaking pan every 5 to 7 minutes for even browning. Reduce heat when necessary to prevent burning. Brussels sprouts should be darkest brown, almost black, when done. Adjust seasoning with salt, if necessary. Serve immediatelywww.backyardhomesteadadventure.blogspot.com